(Ongaku-no-Tomo June edition, Special feature [where 23 music critics etc. wrote articles about their favourite concertos])
Urushihara's and Wolfe's performance of Elgar: A ferocious impact radiating from a tranquil 'place'
・ 23rd April 2017, Hyogo Performing Arts Center
・ Asako URUSHIHARA (vn), Joseph WOLFE (conductor), Hyogo Performing Arts Center Orchestra
・ Elgar 'Violin Concerto'

In a concerto performance, when a soloist with hidden passion which spouts forth in the midst of calmness encounters an orchestra conductor who loves this work more than anything and knows this well, a ferocious 'place' that nobody could have expected will be created. Edward Elgar's 'Violin Concerto' (performed 21st to 23rd April 2017), which combined Asako Urushihara with the Hyogo Performing Arts Center Orchestra, and Joseph Wolfe as conductor, was certainly that moment for me. This work is not often performed. There were also certainly expectations for this encounter. Urushihara faced towards him likewise with gentle calmness in her usual on-stage manner. The tone of the strings shone, but in an introspective way, where the fervent passion spouted introspectively with an austere sheen. Wolfe faced the solo performance head-on by conscientiously leading this well-constructed composition. The elegant lyricism was brought out in a natural way.
Moreover, the pizzicato tremolo appearing in the 3rd movement was also formed in an unaffected manner to a world where its entirety was filled with grace. This was a performance where a ferocious impact radiated from a tranquil 'place'.
(selected and written by Kunio SHIMADA (critic))

---

Hyogo Performing Arts Center Orchestra (95th subscription concert);
reviewed by Katsura KOISHI

Hyogo Performing Arts Center Orchestra (95th subscription concert)
~All-Elgar Programme~
Performed on 21st April 2017 at the KOBELCO Grand Hall of the Hyogo Performing Arts Center
Reviewed by Katsura KOISHI
Photos by Takashi IIJIMA; provided by the Hyogo Performing Arts Center
< Performers >
Hyogo Performing Arts Center Orchestra
Joseph WOLFE (conductor)
Asako URUSHIHARA (violin)
< Programme >
Elgar: Violin Concerto in B minor, Op. 61
Elgar: Symphony No. 1 in A flat major, Op. 55

This was a concert of only Elgar works - of two monumental works with performance times of over 50 minutes. I couldn't wait to learn what kind of concert this would be. What finally began was a torrential flow of music without any sharp edges whatsoever. The orchestra above all was leisurely and bountifully full of beauty.
The Hyogo Performing Arts Center Orchestra (PAC orchestra), needless to say, is made up of young performers who study and perform musical works for a three-year term, which little-by-little contributes to their improvement. The first-chair performers of orchestras such as the NHK Symphony Orchestra, Yamagata Symphony Orchestra, Tokyo Symphony Orchestra insinuate themselves in each section as top performers in such a spirited young group, becoming the core performers and pulling the entire orchestra. I felt this style mostly works well. The basic group is young, where the maestros come as guests. I believe that's how bountiful music that embraces audiences is made.
Conductor Joseph Wolfe, who is also a violinist, young and easy-going, captures the essence of the harmony changes in music. He brings the music out closely together from within at the transition of successively connected sounds. Careful sound-spinning Asako Urushihara, the orchestra and Wolfe himself all are smoothly unified.
Wolfe, as an English conductor, has built an intimate relationship with the music of English musician Elgar. (Although a superficial management takes exception to such a style being regarded as acceptable), Wolfe's way of approaching large-scale works from within strongly conveys a sense of 'England', and thus was a really satisfying concert. The 'all-Elgar programme' should have had been the greatest 'selling point' in this performance, and thus looking forward to future programmes which would satisfy the audiences looking to 'listen to more Elgar'.

---
Ongaku no Tomo, November 2013

Performance from Western Japan
Asako URUSHIHARA (vn) & Barry SNYDER (p) Saint-Saens

Asako Urushihara and Barry Snyder held a uniquely professional level recital with a work by Franck and a rare opportunity to hear a live performance of works by Saint-Saëns and Lekeu, as well as Fauré's Sonata No. 2. Moreover, the clear expressiveness of the performers supported by a confidence with respect to the four works brought out intriguing music from these works and hence was appealing indeed. To be able to perform this work by Faur, known for his abstruseness in his final years, with a beautiful form and invigorating expressiveness was something. The sound of the Saint-Saëns was lively and vibrant to the extent that before I knew it I felt myself riding along with its full feeling of life. The performance of sonata of Lekeu, who died young, was passionate in which the intensity of living rather than the transitory nature I envisaged could be felt. No passion was kept hidden in the Franck sonata but rather boldly radiated, yet what should be held back was done so in a marvellous balance with a penetrating noble expressiveness. The sound was also beautiful, and the combination with Snyder was an incredible performance worth listening to.
(Takayoshi NAKAMURA, 23rd September at the Hyogo Performing Arts Center <The Recital Hall>)

---
The Chugoku Shimbun, Saturday, 23 February 2013

Handling the ingredients of sound to bring music to life
Hiroshima Symphony Orchestra (326th Subscription Concert)
Joseph WOLFE conducting and Asako URUSHIHARA performing her violin solo at the Hiroshima Symphony Orchestra 326th Subscription Concert

Perhaps it can be said that it is like feeling a sense of well-being after enjoying savoury cuisine. This is the impression I came away with just after listening to the 326th Subscription Concert of the Hiroshima Symphony Orchestra (held on 15th February at the Hiroshima Bunka Gakuen HBG Hall). The way in which the ingredients are brought to life differs greatly depending on the culinary chef. The same can be said for music.
Briton and young conductor Joseph Wolfe is the son of the globally renowned great master, Sir Colin Davis. But the children of great conductors do not necessarily a great conductor make. My expectations were not particularly high.
English composer Elgar's 'violin concerto' was performed in the first half of the programme. This is a composition which tended towards a diffuseness in order to show the interplay of conflict and pathos due to secret love, and this was calmly and scrupulously interwoven by Japanese violinist Urushihara.
The dialogue of the orchestra led by Wolfe was nice - my expectations were aroused in the latter half where Dvorak's 'Symphony No. 7' was performed - and my expectations were not betrayed, as Wolfe demonstrated a structure of fabulous sound. Perhaps he thoroughly read and analysed the score, but above all he brought to life each successive individual sound. Nevertheless, he portrayed extremely well the overall structure and expressive flow of the work without being over-analytical.
If I must mention one sticky point, it would have to where there were uneven sections here and there at the start. However, I was not even bothered about those bits of sloppiness at this evening's performance. Not only could I sufficiently savour the meaning of each ingredient of sound, as was evident by the care taken to leave a lingering of harmony at the end, the sensibility for the sound was sharp, resulting in the formation of an amazing ensemble.
I hear that significant progress has been shown in British cuisine these days, and I enjoyed that taste of excellent 'musical' cuisine under the baton of Joseph Wolfe. I would even enjoy listening to a recording of the Hiroshima Symphony Orchestra conducted by him.
(Yumi NOTOHARA, Specially Appointed Assistant Professor at Hiroshima University, Hiroshima City)

---
The Chugoku Shimbun, Saturday, 16 February 2013

A profound world of transcendental technique
Hiroshima Symphony Orchestra Subscription Concert
Joint performance with violinist Asako Urushihara
Violinist Asako Urushihara in a joint performance with the Hiroshima Symphony Orchestra 326th Subscription Concert Subscription Concert

The 326th Subscription Concert of the Hiroshima Symphony Orchestra was held on 15the February at the Hiroshima Bunka Gakuen HBG Hall, where young Briton Joseph WOLFE took up the baton to conduct profound performance of works, including from Elgar.
Since their public performance in France in 1997, violinist Asako URUSHIHARA once again reunited with the Hiroshima Symphony Orchestra to perform Elgar's violin concerto, a lengthy and demanding work amongst such concertos, with a performance time of about 50 minutes. The audience was enthralled by Urushihara's full command of her transcendental technique and by her depth of expressiveness.
Next in the programme was Dvorak's Symphony No. 7. The orchestra gradually built up from a plaintive start to a powerful dynamism, and after exposition of a Dvorakesque peaceful ethnic melody, finally enveloped the audience with a majestic finale.
(Tomomi UESUGI)

---

Ongaku no Tomo, September 2010

Asako Urushihara, violin
Barry Snyder, piano

Urushihara Plays Schumann's Three Violin Sonatas and Three Romances.

Schumann composed all of his violin sonatas after he reached forty. Unfortunately, all of them have been underappreciated. One of the reasons is that the violin part is written in the range where the instrument is hardly sonorous. Also, the piano's harmony is so thick that it obscures the melody. Overall, the sonatas have a somber impression. Asako Urushihara, however, finds the composer's innate artistic depth there. She says, "I think Schumann's music has a substantial width. When I play his work, I feel like my whole body is embraced deep in his music. It's like I explore the deep inside of myself. I don't feel that I have to play this way or that. It's more like I express using my own words what Schumann tells us in his smooth breathing. For example, there are phrases that abruptly transform. Schumann did not do that intentionally. Rather, he altered phrases because his mood suddenly changed. Let expressions change as music flows, otherwise you may make it unnatural."

This is the third time that Urushihara featured all of Schumann's three sonatas as well as Three Romances in her recital. The first was eight years ago in Kobe with pianist Barry Snyder. The recording from that recital has been released as a CD. "It is true that prosaic Sonata No. 3 is very difficult to play. There are phrases which make you think that Schumann focused on creating beautiful music so deeply that he forgot that he was dealing with violin when he was writing this piece. When you play such phrases, you need to try to deepen the nuance of expressions by emphasizing the substance, depth and power of sound rather than depending on the range," says Urushihara.

Performing in Europe, Urushihara has acquired natural approach toward her music. These days, she feels very close to Schumann. "You rarely perform all of Schumann's works for violin and piano in an evening. On this fortunate occasion, I would like to express what I have experienced and how I have developed. I appreciate the life is not easy. I am experiencing more difficulties, happiness, and troubles than when I was younger. Of course, my torment is nothing compared with Schumann. However, I can appreciate the meaning of being alive and present more deeply than I used to. And, I hope I can pass these feelings to my audience.

By Takaaki Aozawa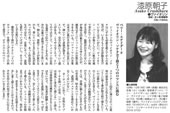 Ongaku no Tomo, September 2010


---

Bravo, September 2010/10/07
Schumann's Message On The Violin

In 2002, at Kobe Shimbun Matsukata Hall, violinist Asako Urushihara performed all of Schumann's works for violin and piano with pianist Barry Snyder in an evening, drawing wide attention from the audience and critics. The live recording from the recital was released to be met by enthusiastic critical acclaim. The two artists will collaborate again to perform the complete works for violin and piano by Schumann, this time in Tokyo.

Urushihara says, "I am delighted to be given an opportunity to play Schumann again. I think I need to be perfectly prepared for the concert. The challenge is how deeply I can express with my violin the messages that Schumann placed in his works. It has been eight years since my first recital of all Schuman works for violin and piano. During these years I have experienced a lot in my private life as well as in my career. I hope these experiences will bear fruits in my performance. Also, I will try to achieve deeper interpretation of the works. Schumann wrote Sonata No. 3 in his troubled mind in the year before he killed himself. This work is very creative, and at the same time, extremely difficult to play for both the violin and the piano. It does not bring out much reward to the performers in spite of their hard work. It is rarely performed, and not very popular. However, I believe it is an important work to understand the essential quality of Schumann's music."

Asako Urushihara studied Schumann's sonatas for the first time when she was studying at Julliard School of Music. She says, "Performances of Schumann's sonatas by artists who had studied at Julliard sounded very radical to me. Therefore, in my mind Schumann became synonymous with radical performance, which was completely alien to me. Then, I had an opportunity to perform with Professor Bernhard Wambach. He told me that Schumann was not radical at all, and suggested a natural approach in performing his works. His words totally changed all my old ideas of Schumann and his music as well as my image of Schumann. And I became interested in this compose. Then, as I lived in Germany for some time, I became to feel closer to him. I feel a profound depth in his works. They have a lot of deep folds of emotion as well as variety of expressions, to which you have abundant options to approach. That is a major attraction of Schumann's music."

Asako Urushihara has been performing with Barry Snyder for eighteen years. Snyder is famous as the pianist who gave Makoto Ozone his first classical piano lessons.

" Mr. Snyder's piano has tones that gently flow through the air. His performance is meticulous, and yet powerful. His accompaniment, which has enfolding tenderness, is like a firm musical platform to support the soloist. When I perform, I conjure the voice and feelings of the composer, reflect them in the sound I create with my instrument, and try to deliver them to the audience. Schumann is worth performing. It would be wonderful if my performance could help the audience renew their recognition of this great composer," says Urushihara.

By Akemi Yokohori


---

Ongaku no Tomo, December 2009
Concert Review

Asako Urushihara, violine, and Barry Snyder, piano
on October 17, 2009
at Mitsunaka Hall, Kawanishi

Asako Urushihara and Barry Snyder once deeply moved the audience with their performance of all Schumannユs violin sonatas. This time, they chose Schubert. The concert on October 17 was presented in the framework of their recent recording project of complete works for piano and violin by the composer, and its program included Sonatine, Duo Sonata, Rondo Brirante, and Fantasie. They treated each work with natural, beautiful sound and skillfully controlled ensemble in the performance, which was full of gentle love for music. Especially, in the first two pieces, the expression was warm and spontaneous, creating a comfortable musical flow. So beautiful was the delicate nuance. The last two pieces, which required spectacular techniques and large-scale performance, were properly given broad expressions. However, neither of the musicians showed off their technique, nor were they seized by passionate feelings. They focused on creating music in a sincere attitude. The result was a performance that conveyed its own merits in a subtle but steady manner.


---

Ongaku no Tomo, June 2005

" I can't believe it's been 10 years since I last played the Kreutzer Sonata. Yes, of course, I love Beethoven. But I do have to be honest and say I never quite felt comfortable with his music. When I was living in Germany, there were times when I worried that my performances were a bit shallow. But, recently, that has changed and now Beethoven doesn't seem so distant to me anymore."

Asako Urushihara's love for Beethoven's music did not come naturally. It was a true labor of love to learn how to play his music as she does now, as though she were simply "breathing it," comments the veteran violinist. Her love for Beethoven led to a meeting with pianist, Akiyoshi Sako, who shares her passion for the composer and is also famed for his performances of the complete Beethoven piano sonatas. It was artistic destiny that brought the two artists together. And now we are about to witness the musical chemistry of this duo in what could be billed as the ultimate all-Beethoven performance. Ms. Urushihara and Mr. Sako will be performing Sonata No. 5 in F Major, Op. 24 'Spring'; Sonata No. 8 in G major, Op. 30 No. 3; and Sonata No. 9 in A major, Op. 47 'Kreutzer'.

" In September of last year, I had the opportunity to perform with Mr. Sako in Osaka - something I had wanted to do for sometime. It wasn't a Beethoven concert however; we performed sonatas by Mozart, Schubert, Janacek, and Franck. It was a real joy to play. And again in March of this year, we performed together in Kobe which was another thrill for me." Ms. Urushihara expresses an intimate understanding of the music.

" Sonatas with titles are delightful to listen to, but they tend to be played in a whimsical fashion, don't you think? I don't want my performances to sound like that. I want to get past the title, so I spend a lot of time digging beneath the surface of the music until I am convinced I really understand the composer's true intent. This process takes time. It all comes down to rediscovering the music and finding yourself in it. I feel like I've finally arrived after years of searching but still, I'm only standing at the entrance to this wonderful world of Beethoven. And, believe me, an all Beethoven program is a prodigious undertaking; but I feel a concert like this is a rare opportunity to really appreciate all the rich and multifaceted subtleties that this composer has given us through his music."

And judging from her critics, it seems they would concur: "Ms. Urushihara's every turn of phrase, every nuance is rich and each note sings with life. Her ability to flow with the ever-changing moods of the music is a wonderful experience. Her performances are musical journeys."

Being a little impatient, I decided to temporarily forego ethical protocol to get a sneak preview of how the duo will be performing their long-anticipated program.

" I'm doing a look of new things with the first movement of the 'Spring' sonata in a very non obtrusive manner. The structure is very simple and there aren't a lot of notes. The music comes quite naturally and is fun to play. There are also solo moments interspersed here and there all within a very natural and tempered structure. And performing together with Mr. Sako makes it all seem so natural. There's so much more to the 'Kreutzer' sonata than just the tempo and dynamics. What I'd really like to do is get under the surface and bring out the inner qualities of Beethoven's expressive genius - in my own way, of course. I'd like to sense his inner strength in my playing as if it were natural, like breathing.

This year we have seen a lot of performances of Brahms concertos. And next year has been unofficially dubbed the "Year of Mozart." But (if I may be so bold as to interject my own unasked for opinion), perhaps, for Ms. Urushihara the 150th anniversary of the death of the German romanticist, Robert Schumann, is a much more significant historical marker. She is famed for her performances of the 3 Schumann violin sonatas and the Schumann violin concerto. But I digress. The long-anticipated performances of Beethoven's violin and piano sonatas by this incomparable artistic duo will be a veritable musical feast for the audience. I happily send them a bouquet of gratitude.


---

March 19, 2005 Sankei Shimbun
Violinist Asako Urushihara and Pianist Akiyoshi Sako
Present The Beethoven Spring and Kreutzer Sonatas

Ms. Urushihara, who has recently added a new dimension of spirituality to her musical interpretations, will bejoining Mr. Sako, known for his unorthodox insights, in a performance of Beethoven's Spring and Kreutzer Sonatas, as well as the Sonata No. 8.

The two artists gave their first duo performance last year in Osaka where they performed the Franck Sonata. Ms. Urushihara praised Mr. Sako's uncanny ability to internalize her interpretations and incorporate it into his performance. She says she doesn't have to explain what she wants out of the music, he just seems to already sense it or, as she puts it, "we feel the same way about the music." She further comments that, "Beethoven only spent a very small portion of his life writing violin sonatas, as opposed to the major part of his life writing piano sonatas. That's why I'm so jealous of pianists. But you know, to be honest, I thought it was a bit too early for me to be tackling his violin sonatas until I suddenly realized that if I waited for the right moment, I'd be waiting forever," she laughs.

The Spring Sonata is the most beautiful of the three. The melody is simple and elegant with just the right number of notes. The difficulty lies in expressing the individuality of the music, however. The Kreutzer Sonata is a work of enormous stature. And Sonata No. 8 is a masterful blend of two contrasting views. These three sonatas are distinctly different in nature and reflect the creative genius of Beethoven.

Ms. Urushihara has been creating somewhat of a sensation in recent years with her revival of the complete violin sonatas of Schumann and Brahms. And Mr. Sako has forged a name for himself as well performing the complete cycle of Beethoven piano sonatas. Their performance of the Spring and Kreutzer Sonatas will undoubtedly prove to be a delectable culinary delight for the Beethoven connoisseur.


---

March 2, 2005, Kobe Shimbun

Ms. Urushihara made her debut in 1988 with the NHK Symphony Orchestra on their regular subscription series. She won this honor after winning the Japan International Music Competition while yet a high school student at Tokyo National University of Fine Arts and Music's High School Division. She was the youngest contestant to win the top prize. She has been performing domestically and internationally ever since.
Aside from actively promoting a revival of the Schumann violin sonatas, Ms. Urushihara has shown herself to be indefatigable artist having performed as guest soloist with orchestra more than ten times in the span of one month just last season.

Ms. Urushihara spoke of her collaboration with Pianist Akiyoshi Sako, "I have wanted to perform with him for some time. I felt that we would make a solid team that could make a serious contribution to the world of music; not just another fly-by-night duo easily recognizable masterpieces to tickle the public's fancy."And it is just that type of sentiment that led to the artists' decision to perform Beethoven's Spring Sonata No. 5, Sonata No. 8 and the Kreutzer Sonata No. 9.
" Of the three sonatas, the most difficult one to execute is the Spring Sonata. It tends to be played too sweetly without much bite because of its simple and delicate melody. And, of course, this is very Beethoven,"remarks Urushihara.
Ms. Urushihara revealed that she used to have an aversion to Beethoven's mid-life compositions."But after I realized I should approach his music from a vocalist's perspective, I no longer felt uncomfortable with his music.And, in the end, I realized that all I had to do was trust my instincts. Now he doesn't feel so distant to me anymore. If I can bring that across in my performances, I'll be happy. The rest is up to my colleague, Mr. Sako. And he always comes through for me. He has this way of drawing things out of me I never knew were there."


---

February 10, The Mainichi Newspaper [People Navigator]

many of the world's major orchestras - Poland, Kyoto, Osaka, Tokyo - to name a few. In December alone, she performed as many as 9 concerts with as many orchestras. She is a veteran violinist enjoying the prime of her career. And now she has embarked on a new venture, forming a duo with pianist Akiyoshi Sako.

" We performed for the first time last autumn. It was a pleasure just playing together. We really have a sense of rapport. Mr. Sako is a very orthodox and grounded musician, which makes him a very reliable partner. This is very confidence inducing. But his playing is also filled with grace, poise, and finesse, and these qualities really make each performance a lasting experience."

Ms. Urushihara first garnered international attention when she won the Japan International Music Competition in 1983. She was the youngest winner and only a high school student studying at Tokyo National University of Fine Arts and Music's High School Division at the time of the competition. She gave her professional debut in 1988, performing with the NHK Symphony Orchestra on its subscription concert series. Since then, she has made a name for herself in Europe and the United States as well.

More recently, she has been recapturing the attention of the music world with her revival of the complete Schumann and Brahms sonatas for violin. Her critics rave about her refined sense of expression and unique range of colors. She attributes this to her five year-old daughter. "I've learned so much from my daughter," she says. "Children have no inhibitions. They just let themselves go, so to speak. And I find when I approach music in this childlike fashion, the music just happens and the notes all fall into place. If you build a wall or try to force yourself onto the music, the notes seem to fight against you. If I'm having trouble tearing down a wall I've put up, all I have to do is look at my daughter running around just being herself. She's the perfect teacher." Ms. Urushihara can't help smiling like a proud mother.

Ms. Urushihara's current explorations are focused on how to produce rich and sonorous colors. "Now when I play I tell myself to sing the music. I think of my violin as an extension of my voice. Singing is a powerful medium. Just take one note, elongate it, and it goes through a myriad of changes before it reaches its conclusion. I apply this same law of physics to my violin playing, asking myself what happens if I do this or do that. I then analyze the outcome. Of course, in the final analysis, you have to forget all that and just let your body sing the music. That's when special things start to happen."

Ms. Urushihara and Mr. Sako will be performing their all-Beethoven concert March 25 at Kobe Shimbun Matsukata Hall. Call 070-362-7191 for ticket information. They will be performing the same concert again in Tokyo in June. The Spring Sonata No. 5, Sonata No. 8, and the Kreutzer Sonata No. 9 are the featured works on the program.


---
| Artist News | Top Page |