[Osaka-Office]16-1-204 Joshoji-cho Kadoma-shi, Osaka, 571-0063, Japan
TEL : +81(0) 72 887 2560 / FAX : +81(0) 72 887 2561
[Tokyo-Office]1-24-7-408 Shinjuku Shinjuku-ku,Tokyo, 160-0022, Japan
TEL : +81(0) 3 5379 3733 / FAX : +81(0) 3 3353 6881
[KCM Ticket Service] +81(0) 570 00 8255
[KCM Artist Service] +81(0) 90 3727 6539



[ 2014. 4/4 ]

CD Release News
Violin Duo/Keiko Urushihara & Asako Urushihara



Louis Spohr: Duo for two violins in g minor Op.67 No.3
Jean-Marie Leclair: Sonata for two violins Op.3 No.2
Darius Milhaud: Duo for two violins
Toru Takemitsu: Rocking Mirror Daybreak for violin duo
Sergei Prokofiev: Sonata for two violins in C major Op.56
Henryk Wieniawski: Etudes-caprices Op.18 No.2

AndanteKeiko Urushihara, Violin
Asako Urushihara, Violin

Producer: Naruto Imaizumi
Director: Yuji Sakamoto(Yujin Planning Inc.)
Recording & Mastering Engineer: Naruto Imaizumi

Recording: 12-13 Novemver 2013 at Iwafune Cosmos Hall, Japan

Special Thanks:
Tomo Nagamori, Kiyoko Shikano (Japan Arts Corporation),
Yutaka Kojima (Kojima Concert Management Co.,Ltd.),
Teruyuki Kamako (Arts Frontiers)

CD no.: NARD-5046

Nippon Acoustic Records Inc.

Keiko Urusihara

Asako Urushihara



---
[ 2012. 11/29 ]
Asako Urushihara (Violin) : Beethoven Violin Sonata cycle
Now on sale to critical acclaim!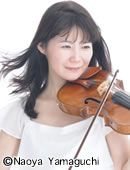 Violinist Asako Urushihara, internationally renowned Japanese violinist recognised for leaving a profound impression through her exceptionally dedicated and profound approach to the works, is now taking on the Beethoven violin sonata cycle.
The complete violin sonatas of ten works will be performed over a series of three performances, each to be held in Tokyo and Osaka, from October until next February.

There are only a few seats left for the Tokyo performance, so hurry and reserve your tickets!

Click the URL for details!
http://www.kojimacm.com/schedule_e/schedule_e.html


---
[ 2011. 3/22 ]

Asako Urushihara (Vn) plays Toru Takemitsu!
To be broadcast on NHK-TV!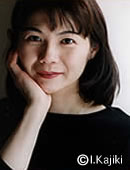 Violinist Asako Urushihara, who had known Toru Takemitsu during his lifetime, has recorded works of Takemitsu for NHK-TV at Yatsugatake Music Hall, which is located in the popular summer retreat associated with the composer.

Broadcast Programme
Toru Takemitsu : "Élégie" for violin and piano, "Quatrain"
These recordings will be broadcast 15 times over the next three years.

Asako Urushihara Biography


---
[
2010. 10/9 ]
Asako Urushihara Plays Schumann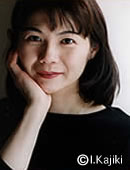 Ongaku no Tomo, September 2010
Asako Urushihara, violin
Barry Snyder, piano

Urushihara Plays Schumann's Three Violin Sonatas and Three Romances.

Schumann composed all of his violin sonatas after he reached forty. Unfortunately, all of them have been underappreciated. One of the reasons is that the violin part is written in the range where the instrument is hardly sonorous. Also, the piano's harmony is so thick that it obscures the melody. Overall, the sonatas have a somber impression. Asako Urushihara, however, finds the composer's innate artistic depth there. She says, "I think Schumann's music has a substantial width. When I play his work, I feel like my whole body is embraced deep in his music. It's like I explore the deep inside of myself. I don't feel that I have to play this way or that. It's more like I express using my own words what Schumann tells us in his smooth breathing. For example, there are phrases that abruptly transform. Schumann did not do that intentionally. Rather, he altered phrases because his mood suddenly changed. Let expressions change as music flows, otherwise you may make it unnatural."

This is the third time that Urushihara featured all of Schumann's three sonatas as well as Three Romances in her recital. The first was eight years ago in Kobe with pianist Barry Snyder. The recording from that recital has been released as a CD. "It is true that prosaic Sonata No. 3 is very difficult to play. There are phrases which make you think that Schumann focused on creating beautiful music so deeply that he forgot that he was dealing with violin when he was writing this piece. When you play such phrases, you need to try to deepen the nuance of expressions by emphasizing the substance, depth and power of sound rather than depending on the range," says Urushihara.

Performing in Europe, Urushihara has acquired natural approach toward her music. These days, she feels very close to Schumann. "You rarely perform all of Schumann's works for violin and piano in an evening. On this fortunate occasion, I would like to express what I have experienced and how I have developed. I appreciate the life is not easy. I am experiencing more difficulties, happiness, and troubles than when I was younger. Of course, my torment is nothing compared with Schumann. However, I can appreciate the meaning of being alive and present more deeply than I used to. And, I hope I can pass these feelings to my audience.

By Takaaki Aozawa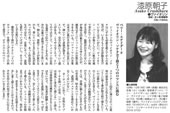 Ongaku no Tomo, September 2010


---
[2009. 10/20 ]

Asako Urushihara completed recording &
concert tour of all Schubert's works for violin!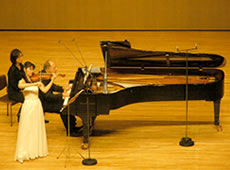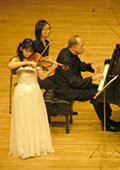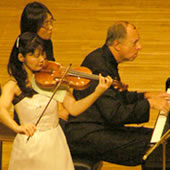 Asako Urushihara, together with Barry Snyder, pianist, performed recording session from October 14 to 16 at Mitsunaka Hall, Hyogo Prefecture. The concert on October 17 at the hall was also recorded. With this she has finished recording of Schubert's entire works for violin and piano.

She has already recorded Rondo for Solo Violin and String Quartet with the Lotus String Quartet in October, 2009, when the quartet was on their tour in Japan. Therefore, this time she has completed recordings of all violin works by Schubert (Fontec label, release date undecided).

Before and after the recording and concert at Mitsunaka Hall in Kawanishi, she and Barry Snyder also performed recitals in Machida, Takasaki, Fujisawa, and Nagoya with an all-Schubert program. Their performance won the praise of audience at each recital.

Barry Snyder will visit Japan again next October to play all of Schumann's works for violin and piano with her. This will be the second time they play these pieces following the concert & live recording in June 2002 in Kobe. This time the concerts will be held in celebration of the 200th anniversary of Schumann's birth. At present concerts in Tokyo and other several cities are being planned.

Asako Urushihara Biography

Artist News